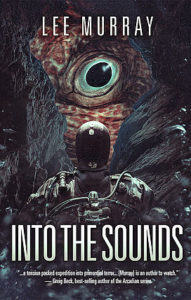 Continuing the story of Taine McKenna and Jules Asher which started with Into the Mist (winner of the Sir Julius Vogel Award for Best Novel, 2016), Lee Murray leaves the mist-shrouded Ureweras behind and drops us into one of New Zealand's most remote and deceptively beautiful regions: Fiordland. Taking leave from the NZDF, McKenna accompanies Asher and a crew of scientists and hunters into the Fiordland Sounds on a Department of Conservation deer-culling mission. What should be a straightforward job rapidly slides into chaos as the team stumble across a high-tech poaching operation, a lost tribe, and larger, darker things lurking beneath the icy waters of the Sounds.
Into the Sounds is a worthy follow-up to Into the Mist, a non-stop adventure which threads together many overlapping aspects of New Zealand's sometimes ugly history, with a solid dose of credible science fiction, and a critical touch of magic to hold it all together. New Zealand's grand, sweeping landscapes take on an almost mystical quality as Murray takes us deeper into a part of the country often imagined but rarely explored.
While the bodycount starts racking up in the opening scene and doesn't slow down, the full cast of characters are well-developed, and we feel for each of them as one disaster after another claims its victims, heroes and villains and strangers alike. The pacing is superb, the writing is clean and uncluttered, and I think this book makes an excellent addition to the series, and to the monster-hunter genre in general.
Readers who are new to the series can pick up Sounds and enjoy it without having read Mist. A third book, Into the Ashes, is slated for release next year from Severed Press, and I'm already looking forward to that.
Disclosure: Lee Murray and I are frequent collaborators, and I was offered a copy of Into the Sounds to read for review purposes. This review is my honest opinion of what is a fantastic, exciting read, and I highly recommend this series to fans of science fiction and monster fiction alike.