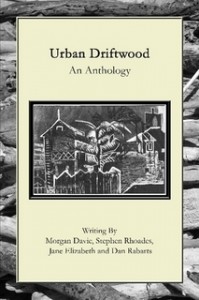 A collection of poetry and short prose by four young Wellington writers. An exploration of the sometimes uncertain, sometimes painful journey from youth into adulthood.  Fragments of change, the rites of passage we must go through, and what we find along the way.
Click below to download the free PDF, or go to Lulu.com to purchase a paperback copy.
Urban Driftwood is also now available as an ebook from the iBookstore for iPod, iPhone, & iPad, or from Barnes & Noble for the Nook reader. The price of the ebook is $3.99.
You can also go straight to Lulu.com and lay your … er … eyes … on a free copy of the ebook, if that's what you prefer.
Urban Driftwood (PDF)