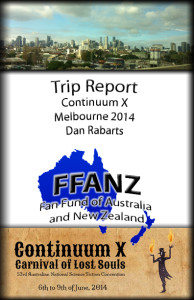 Almost a year to the day after my most excellent trip to Melbourne and the Continuum X SF convention, my Trip Report is ready!
Available directly through this site, for $2.50 (or more if you want to support the fund more generously) you  will receive the PDF, epub and mobi versions of the file, so that you can read in your preferred format.
All proceeds from the sale of this Trip Report go to future Fan Funds, to help send a Kiwi fan to Australia, so please consider sparing a couple of bucks for a good cause.
To grab yourself a copy, head over to the Paypal donation widget on the right of the screen. All funds raised go towards the next FFANZ trip, so please feel free to pay a little more if you can. It's all appreciated and put to good use.