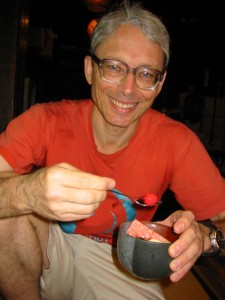 Having been a vocal fan of New Zealand fantasy author Hugh Cook up to the time of his death in 2008, I was invited by the family to write an obituary for him when he passed away after battling non-Hodgkins lymphoma for several years. I treated this invitation as a great honour, and did my utmost to capture what I could of this fine author's life in a very short space of words.
Shortly thereafter, I expanded this obituary into an article on his life and work, which I published as part of New Zealand Speculative Fiction week in 2009. It was republished by World SF Blog, and went on to receive a nomination for the Sir Julius Vogel Award, in the same year that I ran a nomination for Hugh for his services to the genre.
The article was also produced and narrated as an audio piece by Grant Stone, and appeared on StarShipSofa's episode 150 (mp3 audio).