Contributing Authors
Richard Barnes lives, works and occasionally writes in the coolest little capital in the world, Wellington, New Zealand. His short stories have been published in A Foreign Country and Tales from the Bell Club amongst others. For a fresh take on Royal Weddings, with added monsters, sword fights and car chases, check out The Royal Wedding from Hell e-novella at www.smashwords.com. And why not check out his reviews of the 11th Doctor's era on https://reviewthewho.wordpress.com And one of these days, seriously, Richard WILL write a whole novel. And he blogs at http://richardbarneswriter.blogspot.co.nz/
Carlington Black lives in an apartment on the Wellington foreshore with his cat Poe, and his late parent's hound, Jimmy.
 A.C. Buchanan lives just north of Wellington. They're the author of Liquid City and Bree's Dinosaur and their short fiction has most recently been published in the Accessing the Future anthology from FutureFire.net and the Crossed Genres Publications anthology Fierce Family. Because there's no such thing as too many projects, they also co-chair LexiCon 2017 ‒ The 38th New Zealand National Science Fiction and Fantasy Convention and edit the recently launched speculative fiction magazine Capricious. You can find them on twitter at @andicbuchanan or at www.acbuchanan.org.
 Octavia Cade has had stories published in Strange Horizons, Apex Magazine and The Dark, amongst other places. Her short fiction has been BSFA and Sir Julius Vogel shortlisted. She'd previously sworn never to do a zombie story in her life, but a month pet-sitting for her sister destroyed that notion when she found herself a) burying a dead chicken under the front lawn, and b) skittering back out to that lawn in a thunderstorm at midnight, to roll a heavy planter on top of the grave just in case. (She'd been watching a horror film and is entirely too suggestible).
 Jodi Cleghorn (@jodicleghorn) is an author, editor, small press owner and occasional poet with a penchant for the dark vein of humanity. Her stories have been published locally and aboard, including the Aurealis shortlisted, Elyora/River of Bones, and the flash collection, No Need to Reply.
Tom Dullemond stumbled out of university with a double degree in Medieval/Renaissance studies and Software Engineering. One of these degrees got him a job and he has been writing and working in IT ever since. Tom writes primarily short fiction across all genres, including literary fiction and the occasional poem. He co-authored The Machine Who Was Also a Boy, the first in a series of philosophical fantasy adventures for middle-grade students, and has short fiction published in a handful of anthologies and magazines including Suspended in Dusk, Danse Macabre and Betwixt Magazine. He is the co-creator of Literarium, an online writing management portal.
AJ Fitzwater is a meat-suit wearing dragon who lives between the cracks of Christchurch, New Zealand. A graduate of Clarion 2014, they were awarded the Sir Julius Vogel Award 2015 for Best New Talent. Their work has appeared in such venues of repute as Beneath Ceaseless Skies, Andromeda Spaceways Inflight Magazine, Crossed Genres Magazine, Lethe Press' Heiresses of Russ 2014, Twelfth Planet Press' Letters to Tiptree, Random Static's Regeneration: New Zealand Speculative Fiction 2 and many others. Their ideal dinner party guests would include James Tiptree Jr, Joanna Russ, Anne McCaffrey, and Freddie Mercury.
Jan Goldie writes books and short stories. Her latest creation is a children's fantasy adventure about a boy called Brave and a girl named True. The book features a magical world, strange creatures and months of travel without a bath. Jan loves coffee, champagne and raspberries so she wouldn't last long on that journey. You can find out more about Jan and Brave's Journey by visiting her website www.jangoldie.com
J.C. Hart is a mother and writer who resides in Taranaki, cushioned between the mountain and the sea. She is the author of several works of both long and short fiction, which include several short stories in award winning anthologies, of which, The Dead Way, which was a finalist for the Australian Shadow Awards 2014. Alongside her writing J.C. is also a freelance editor, and the co-chair of LexiCon 2017 – the 38th NZ National Science Fiction and Fantasy Convention.
Phillip Mann was born in Yorkshire. After working in Drama in the USA, he and his wife moved to New Zealand in 1970 where, apart from working in the theatre, he founded the first NZ Drama Studies Dept at Victoria University. He began writing Science Fiction while working at the New China News Agency in Beijing. To date he has published 10 science fiction novels (all with Victor Gollancz) and his most recent work, The Disestablishment of Paradise, was a finalist for the Arthur C. Clarke Award in London in 2014. This year, he was made an Honorary Literary Fellow by the New Zealand Society of Authors. Further information on his writing can be found on his web page Phillip Mann ‒ Writer, Teacher, and Theatre Director.
Paul Mannering is an award winning writer living in Wellington, New Zealand with his wife and two cats. His writing crosses the range of speculative fiction genres from horror, to sci-fi and philosophical comedy. Paul is the author of the Tankbread series, Apocalypse Recon: Outbreak, published by Permuted Press, and the first two volumes of the Drakeforth Trilogy, with Paper Road Press. He holds a longstanding grudge against asparagus and believes that we should all make an effort to be courteous to cheese.
Keira McKenzie resides in the desert lands far to the west across the Tasman ditch.  In the city by the sea, she spends her time torn between drawing/painting and writing.  She has sold illustrations, artwork, short stories and essays.  She doesn't know which comes first: the painting or the words.  She has a PhD somehow, despite the cat, the would-be triffids of the courtyard, and the (mostly) invisible dragons of kitchen gardens and rain drops.
Shortlisted as a writer, editor, and for services to speculative fiction in the 2015 Sir Julius Vogel Awards, Eileen Mueller has won SpecFicNZ's Going Global and NZSA's NorthWrite Collaboration literary awards. Co-editor of The Best of Twisty Christmas Tales—an anthology including stories by Joy Cowley and David Hill, Eileen was also sub-editor of Lost in the Museum, the 2015 Sir Julius Vogel  Best Collected Work. A New Zealander of the Year Local Hero, publicist, and marketing consultant, she manages Wellington's Storylines Festival. In her spare time, Eileen sings in Faultline barbershop chorus, runs community planting projects and juggles children—usually without dropping them!
Since 2011, Perth short story writer and PhD candidate at UWA, Anthony Panegyres, has had numerous stories published in anthologies and also Australia's premier literary journals (Meanjin and twice in Overland).  He has also been an Aurealis Award Finalist for Best Fantasy Short Story (republished in The Best Australian Fantasy & Horror, 2011).  His most recent stories have been published in the anthologies: The Best Australian Stories 2014 ed. Amanda Lohrey and Bloodlines ed. Amanda Pillar.
 A.J. Ponder has a head full of monsters, and recklessly spills them out onto the written page. Beware dragons, dreadbeasts, taniwha, and small children ‒ all are equally as dangerous, and all are capable of treading on your heart, or tearing it, still beating, from your chest.
 David Stevens lives in Sydney, Australia, with his wife and children. He has worked in criminal law for 25 years, including a year spent in The Hague recently working with an international tribunal. His fiction has appeared in Crossed Genres, Aurealis, Three-Lobed Burning Eye, Pseudopod, Cafe Irreal, the anthology Love Hurts, and elsewhere.  He blogs irregularly at davidstevens.info.
David Versace (Twitter @_Lexifab) lives with his family in Canberra. He occupies his time between meetings of the Canberra Speculative Fiction Guild with minor acts of public service. His work appears in the CSFG anthology Next and in the forthcoming The Lane of Unusual Traders from Tiny Owl Press.
Summer Wigmore has written many books and published one, so far: The Wind City, published by Steam Press. This is their first foray into sending out short stories, and shows the excellent rewards of foraying. Lately Summer has also taken up a bewildering variety of crafts, from candle-making to drying their own ingredients for tea. A living experiment in gentle pretension.
 E.G. Wilson cut her authorial teeth writing Sherlock fanfiction at uni when she should really have been studying. She fell into writing science fiction after being inspired by Star Wars and That Whedon Show That Was Cancelled After One Season, and has since won NaNoWriMo four years in a row. She lives in South Canterbury, New Zealand; she loves mountains, hates broad beans, and never wears matching socks.
Cover Artist Bio
Emma Weakley is a freelance illustrator and sometimes writer currently living on the Kapiti Coast. Her first book, Jack and the Beanstalk, was published in 2010. She has won the Sir Julius Vogel award in 2008 and 2014 for best professional artwork. Emma uses a mixture of traditional drawing and digital painting.
Introduction by Angela Slatter
Specialising in dark fantasy and horror, Angela Slatter has won a World Fantasy Award, five Aurealis Awards, and a British Fantasy Award. She is the author of, among other things, six story collections (including Sourdough and Other Stories and The Bitterwood Bible and Other Recountings), has a PhD, and was an inaugural Queensland Writers Fellow. Jo Fletcher Books will publish her debut novel, Vigil, in 2016, with its sequels, Corpselight and Restoration, coming in 2017 and 2018 respectively. Her website is located at www.angelaslatter.com and she can be found on Twitter @AngelaSlatter.
 The Editors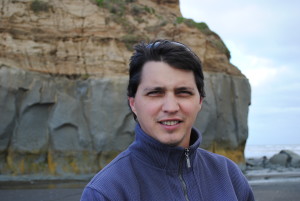 Dan Rabarts writes fantasy and speculative fiction. He is a sometime narrator of podcasts (including stories for the Hugo award-winning StarShipSofa), occasional sailor of sailing things, and father of two wee miracles in a little house on a hill, under the southern sun. In 2014 Dan received the Sir Julius Vogel Award for Best New Talent. Baby Teeth – Bite-sized Tales of Terror, a horror anthology co-edited with Lee Murray, also won the SJV for Best Collected Work and the Australian Shadows Award for Best Edited Work. Dan's short stories have appeared in Beneath Ceaseless Skies, Aurealis Magazine, Andromeda Spaceways Inflight Magazine, and on the Parsec Award-winning steampunk podcast Tales from the Archives, among many others. Find him here: dan.rabarts.com; Twitter; Facebook
Lee Murray writes fiction for adults and children. She is a five-time winner of the Sir Julius Vogel Award for science fiction, fantasy and horror, and holds an Australian Shadows Award (with Dan Rabarts) for Best Edited Collection for Baby Teeth: Bite-sized Tales of Terror . She is co-editor of five anthologies, including four by New Zealand intermediate and secondary students, as well as At the Edge (with Dan Rabarts) a collection of antipodean speculative fiction. Lee's fourth novel, Into the Mist, a speculative thriller set in the Urewera ranges, is published by Australia's Cohesion Press. Find her here: leemurray.info; Facebook