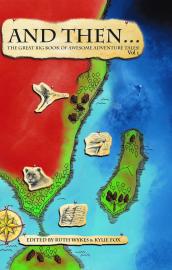 Winner: Paul Haines Award for Long Fiction  – Australian Shadows Awards 2016
Finalist: Sir Julius Vogel Award for Best Novella/Novelette 2016
Big adventure awaits in And Then…The Great Big Book of Awesome Adventure Tales Volume 1, from Clan Destine Press, including tales penned by some of the best in Australian fiction, plus kiwis Lucy Sussex and I.
My contribution, the novella Tipuna Tapu is a tale set in a post-apocalyptic dieselpunk Aotearoa, where humanity struggles to survive while the monsters of legend – dragons, ogres, kaiju, taniwha – stalk the world.
And Then… Volume One is available in paperback and ebook, and Volume 2 is due for release in 2017.
Here's a list of the stories in Volume 1:
Sulari Gentil ~ Catch a Fallen Star
Jason Nahrung ~ The Mermaid Club
Alan Baxter ~ Golden Fortune, Dragon Jade
Jason Franks ~ Exli and the Dragon
Lucy Sussex ~ Batgirl in Borneo
Amanda Wrangles ~ Come Now, Traveller
Evelyn Tsitas ~ Stealing Back the Relics
Peter M Ball ~ Deadbeats
Narrelle M Harris ~ Moran & Cato: Virgin Soil
Dan Rabarts ~ Tipuna Tapu
Kat Clay ~ In the Company of Rogues
Sophie Masson ~ The Romanov Opal
Tor Roxburgh ~ The Boudicca Society
Emilie Collyer ~ The Panther's Paw
Tansy Rayner Roberts ~ Death at the Dragon Circus