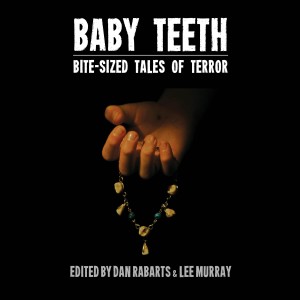 If you've been keen for a taste of the Baby Teeth audiobook, now is your chance. The most excellent Stephen Kilpatrick, who is now running the show over at the Tales to Terrify podcast, has recently released a special episode featuring an introduction by yours truly and six – yes, SIX – stories from the book, as produced by Dynamic Ram Audio.
These stories are:
Caterpillars, by Debbie Cowens (Australian Shadows Award winner, Best Short Story, 2014), narrated by the author;
White, by Grant Stone, narrated by Dan Rabarts;
Winter Feast, by Elizabeth Gatens, narrated by Tanja Milojevic;
The Birthday Present, by Sally McLennan, narrated by Jenni Sands;
Peter and the Wolf, by Lee Murray, narrated by Chris Barnes;
The Dead Way, by JC Hart (Australian Shadows Award finalist, Best Short Story, 2014), narrated by Amanda Fitzwater.
So for almost an hour of flash horror fiction in your ears, please head over to Tales to Terrify and have a listen.
If you like what you hear, the audiobook can be purchased from Audible.com. Proceeds go to Duffy Books in Homes, to support the work they do getting kids reading books and loving words.