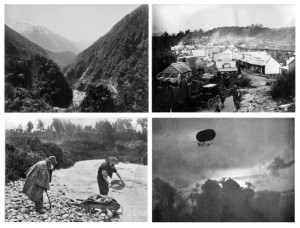 It looks like this Kiwi Steampunk thing just keeps getting bigger, with local indie publisher
Steam Press now running a Kickstarter campaign to fund a new anthology of stories.
This book is called "Angels & Automatons", featuring a shared-world set on New Zealand's West Coast during the 1860's gold rush, with the addition of marvellous steampunk elements – rocket-powered airships, clockwork robots, corsets, blunderbusses and the like. Exciting stuff.
I have been lucky enough to be invited to write a story for this anthology, and I would really appreciate it if you were
able to support the project by visiting the Kickstarter website and considering making a pledge for one of the excellent rewards on offer:
There are a raft of very talented writers on board for this book, and it's going to be fantastic, presuming we reach our funding goal. Other authors involved include Phillipa Ballantine, Grant Stone, AJ Fitzwater, Debbie and Matt Cowens, and Darusha Wehm.
My story, tentatively titled Oil and Bone, follows two Maori from the Deep South as as they lead a Mister Clark over the Southern Alps in search of his missing son, and find much more – and much worse – than they had
bargained for.
Please take a look, share this link with your friends, and help us make this project a reality.