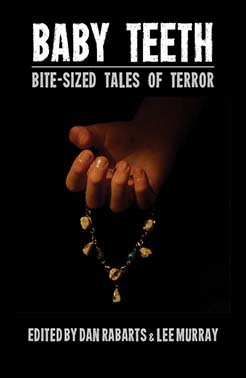 BABY TEETH
If you follow me on Facebook, you'll know by now that Baby Teeth – Bite-sized Tales of Terror, an anthology of flash-length horror ficiton I've been involved with as co-editor (with the marvellous Lee Murray) is now loose in the world. Baby Teeth is a charity project, raising money for Duffy Books in Homes. After a roller-coaster six months from inception to publication, the book is now available for purchase.
37 stories have been donated by 27 different authors, and are based on a thread which appeared on Reddit.com about the creepy things that kids say. I randomly suggested on Facebook that my writerly friends should read it, and use it as fodder for writing short stories, and it snowballed from there. Be aware that this is not a book for children, and some of it gets very dark. There's a reason we launched the book on Halloween. But on the other hand, it also has tales of humour and hope, so it will make for good holiday reading.
We launched in Wellington on Wednesday night and then in Tauranga on Thursday night, and we have a launch planned for Auckland on November 14th. Between presales and launch sales, we're fairly sure that the first print run will be sold out, which is really exciting. Great work to the team involved. It's been amazing.
You can get a copy from publisher Paper Road Press. Ebook and Audiobook versions are both in the works, with details coming soon. All proceeds go to support children's literacy.
SIR JULIUS VOGEL AWARDS
It's upon us again: Nominations for the Sir Julius Vogel Awards for 2014 are now open – a little earlier than usual due to next year's convention being scheduled for ANZAC weekend, just after Easter. So now is the time to head over to the the SFFANZ site and get details on how to nominate your favourite works and creative folk for next year's awards.
But of course, such a plug wouldn't be complete without a mention of what yours truly might be eligible for. So here are a few things you might like to consider nominating me for, if you have a moment:
BEST COLLECTED WORK: Baby Teeth – Bite-sized Tales of Terror, Anthology, Co-editor with Lee Murray, released by Paper Road Press (http://paperroadpress.co.nz/baby-teeth.html)
BEST NEW TALENT: I've had more than a dozen Science Fiction, Fantasy and Horror short stories published in the past two years (http://dan.rabarts.com/fiction/), including winning the Australian Horror Writers Association / Melbourne ZomCon short story contest 2013; I've been co-editor of Baby Teeth – Bite-sized Tales of Terror; And I've been a podcast Narrator on venues such as BeneathCeaseless Skies , StarShipSofa, Tales to Terrify, Wily Writers and Tales from the Archives.
BEST SHORT STORY: In 2013, I had eight stories published in professional or semi-professional markets, all of which are eligible for nomination. These are:
I'd certainly love to have a nomination or two for next year's awards, so if you can spare a moment please consider dropping the good folk at SFFANZ a note to say so. Details of how to nominate can be found here. Thanks very much!