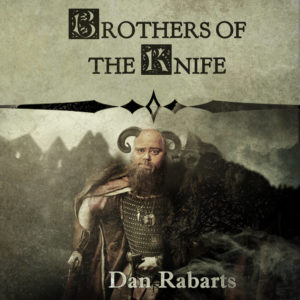 Exciting times! Brothers of the Knife, the first book in my new fantasy series, The Children of Bane, is unleashed upon the world!
The ebook is available from Amazon or the publisher, Omnium Gatherum, from January 14th, and the paperback releases on January 21st, currently available for pre-order.
Akmenos only ever wanted to bake a perfect soufflé, but the murder of an elvish prince at his banquet table sweeps him into a spiral of intrigue, deception and betrayal which is bigger than even his biggest casserole dish.
Caught in a desperate struggle between warring nations and shadowy organisations, Akmenos must stay one step ahead of the sinister figures intent on hunting him down ‒ his own brothers among them ‒ while he tries to clear his name, unmask the true killer, and find a decent cup of tea.
Stumbling from one misadventure to another across continents and planes as the world and his family crumble around him, Akmenos will need to be stronger than he ever thought he could be ‒ stronger even than the blue cheese down the bottom of the larder that should've been thrown out months ago.
"In Brothers of the Knife, Dan has created a deeply imaginative world that disobeys fantasy genre boundaries to forge its own path. A melting pot of sword and sorcery, grimdark, and a splash of steampunk, you're drawn into these worlds (yes, worlds) by the morally-grey characters, Tolkien-esque creatures, and the quest of the hapless yet quirky, Akmenos. This is a dark tale peppered with humour and snark set to a backdrop of warring nations and a world (or worlds) teetering on the brink, and all resting in the hands of a Hornung who just wants a good cup of tea. Dan's storytelling is the hallmark of this book, his world-building intricately rich. You won't be disappointed." – AJ Spedding, author of the Road to Golgotha and editor for Phoenix Editing.