Teeth of the Wolf, the second book in the Path of Ra series after Hounds of the Underworld, is due for release from Raw Dog Screaming Press on October 4th, 2018. Daniele Sera has produced another amazing cover, which we're really please to see gracing the front of this book: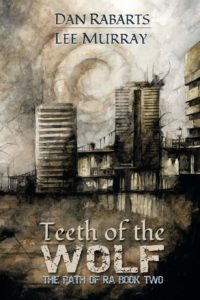 Scientific consultant Penny Yee has barely drawn breath before Detective Inspector Tanner assigns her another suspicious death, with Matiu tagging along for the ride. That's fine as long as he stays outside the crime scene tape, but when one of Matiu's former cronies turns up dead, Penny wonders if her brother might be more than just an innocent bystander. While she's figuring that out, the entire universe conspires against her, with a cadaver going AWOL, her DNA sequencer spitting the dummy, and the rent due any day. Even the weather has it in for her. But that's not the worst of it; Penny's parents have practically announced her nuptials to Craig Tong!
Still spitting the taste of sand from his mouth, Matiu's back on the case with Penny, and wouldn't you know it, his big sister is in over her head again, not that she has a clue. There's a storm brewing dark through the heat-haze on the horizon, and Makere isn't the only one of Matiu's friends from another life dogging his steps. Is this all because of what Mārama was trying to tell him earlier? About his heritage?
Meanwhile, Cerberus is only making things worse by losing his rag every time they cross paths with the elusive killer. Can the dog taste the hot sour reek of something trying to push through the veil and run its tongue and teeth across this world? What's calling them? What has changed? Matiu should probably check that out, if only his probation officer would quit calling…
"The story is brimming with energy and suspense as readers learn more about the sometimes contentious relationship between Penny and Matiu, as well as the mythological lore behind the demons that haunt New Zealand. Fans of the first book will enjoy this new chapter, and new readers will appreciate Murray and Rabarts's inventive, fantastical spin on crime drama." (Publishers Weekly)
"Teeth of the Wolf is exactly what I like to see in a novel. It kicks the crap out of the expected and rushes in with twists, turns and gory surprises. Grim suspense with just the right dash of humor to balance out an exciting read. Horror, crime-noir and near future sci-fi twisted into a delightful combination. Add to that the fact that Penny and Matiu are delightfully unique main characters and you have a winning combination." – James A. Moore, coauthor of the Griffin & Price series (With Charles R. Rutledge), author of the Seven Forges series