Well, 2016 was quite a year all round, wasn't it? Good with the bad and all that. The highlight for me had to be signing a two-book deal for The Path of Ra series with Raw Dog Screaming Press, and Lee and I will be busy over the coming months writing the second book to follow Hounds of the Underworld, due out this year.
Sir Julius Vogel Time
It's SJV nomination time again, and I have a couple of eligible works that you might like to consider having a look at and maybe nominating if you think they deserve it. They are:
At The Edge – an anthology of dark Antipodean short fiction, published by Paper Road Press, edited by myself and Lee Murray; About half the stories in At The Edge are also eligible for the SJVs, just as the other half are eligible for the Aurealis and Ditmar Awards, and most the stories are eligible for the Australian Shadows Awards, so please do take a minute to nominate those stories you think are deserving of mention. I certainly will be.
Spindle – a science fiction horror novella published in ASIM #63
Tipuna Tapu – a dieselpunk adventure novella published in And Then… Volume 1
I'd also like to recommend the cover art for At The Edge, by Emma Weakley, as it is quite a stunning piece of work.

Tipuna Tapu available in And Then…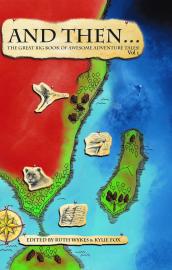 My post-apocalyptic dieselpunk novella Tipuna Tapu has been published in And Then… The Great Big Book of Awesome Adventure Tales Volume 1, from Clan Destine Press in Australia. And Then… is available in paperback and ebook, and Volume 2 is not far away.
New Narration Online
You can now hear my narration of Cameron Trost's Redback Jack over at the Tales to Terrify Podcast, in the episode released on January 6th.
So that's 2016 done and dusted, put to bed. Bring on 2017, I say. Heaps to look forward to, including LexiCon, the national SF convention in Taupo in June, which I'm helping organise, and writing another book with Lee Murray. Full steam ahead!