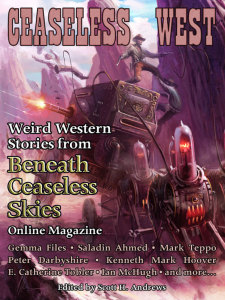 I'm currently buried up to my eyeballs in day job stuff, plus I'm thrashing a new novel-length project and have just passed the 80k mark on that (Yay!), and I'm working on a dieselpunk adventure novella, so it's all go in Camp Dan right now. But I've got time for a quick bit of news.
The Crooked Mile, my Weird West story which first appeared in Beneath Ceaseless Skies, has been reprinted in Ceaseless West, an anthology of all the best Weird West fiction to have featured on BCS. Very exciting. You can find it here.
Also, I have a new narration up over at Tales to Terrify. Burning, Always Burning is a fine piece of work by Aussie dark fiction authors Felicity Dowker and Alan Baxter, and I thoroughly enjoyed reading this one.
Oh, and I was recently interviewed by local paper The Regional News. When I can, I'll post that here too.