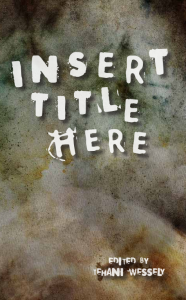 I'm very pleased to announce that I'll have a story coming out in the upcoming anthology Insert Title Here, from Aussie small press Fablecroft Publishing, alongside fantastic authors like Alan Baxter, Joanne Anderton and Thoraiya Dyer. Oil and Bone is another work of Kiwi steampunk, with an awfully dark edge. The book's due to be launched at Swancon in Perth over Easter. Exciting times.
On another note, my short story, The Crooked Mile, which appeared in Beneath Ceaseless Skies in 2012, has been selected for a BCS Best of Weird West anthology, to be released later in the year.
I've also had a couple of new narrations pop up the past couple of months. One is a story by Lavie Tidhar, The Mystery of the Missing Puskat, on the crime podcast Plan B, and the other is a horror tale over on Tales to Terrify; Thank You for Choosing Evil, by Christopher Munroe. If you like short fiction that makes you think, both of these tales are worth your time.