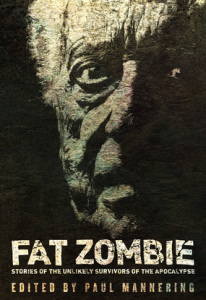 My short story Endgame is now available as part of the anthology Fat Zombie, a collection of stories of unlikely survivors of the apocalypse edited by Wellington author Paul Mannering and published by Permuted Press.
I had a lot of fun writing this one, which starts out with a good dose of humour and twists itself into some pretty dark places by the time we reach the brutal end. Fun.
In this book you'll also find a story by Baby Teeth author Sally McLennan, and Aussie horror author Martin Livings, as well as several new writers. I'm looking forward to getting my copy and reading all the stories. It's available in print and ebook from all the usual places.
There's also been talk of a Wellington launch of some kind, with Sally and Paul and myself, so if you're local, keep an ear out. Be good to see you there.