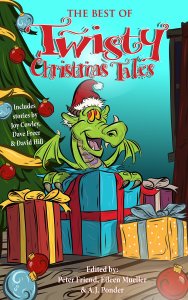 Very shortly, I'll have my first ever children's short story coming out, in the anthology The Best of Twisty Christmas Tales. The story is titled Jack in the Box, and tells a tale of a naughty elf who really, really wants a hot dog on Christmas Eve.
As well as being available in all the usual online places, there will be a book launch on Thursday, November 13th, at the Children's Book Store in Kilbirnie, Wellington at 6pm. We'd love it if you could come along and join us.
10% of all proceeds from book sales will be donated to Muscular Dystrophy New Zealand. So please consider supporting the book, and get some excellent stories to share with your kids this Christmas, from authors like Joy Cowley, Peter Friend and Dave Freer.