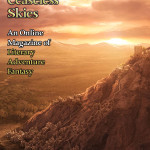 It's always nice when someone has something nice to say about your work, especially when that someone is a respected voice of criticism in the fiction-o-sphere.
In her review of Beneath Ceaseless Skies issues 127 & 128, Lois Tilton
gives The Crooked
Mile the nod as "Good old-fashioned dark fantasy". Go read for yourself, and if you haven't
read the story yet, you can find it here.