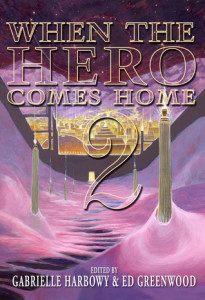 Dragon Moon Press have released the ebook versions of their newest anthology, When the Hero Comes Home 2, including my short story Come is the Wolf in her Wounding.
Because DMP are the most marvellous people, if you order a copy of the book through the widgets below, then a wee slice of that sale will come back to me, which I think is rather a nice way for the publisher to say 'Thanks' to their authors, for contributing
stories and for helping spread the word about the book. And if you spread the word, you can take a share as well!
DMP are also pushing the boundaries in other ways with this book, and this is of particular interest to me. A number of stories accepted for WtHCH2 will appear as bonus pieces in the ebook version. My story is one of these select few. So if it's my fiction you're after in particular, then don't worry about waiting for the paperback – go straight for the ebook. Links are below.
So, get yourself 21 fine works of Science Fiction, Fantasy, and Urban Fantasy, based around the theme of what happens when a hero returns home after their grand quests. How has the world changed? How have they changed? In the case of Come is the Wolf in her Wounding, how does a barbarian queen who has been through hell and back now look at the wolf who pads at her heel? How do her people see her, now that the world they knew has been shattered? To read a sample of Come is the Wolf in her Wounding, head over here, then follow the link to buy the ebook.