I've never been one of these people who goes to fan conventions, particularly since there have only been two in Wellington in the time I've been paying attention to such things. I went along in 2010, on the Sunday evening, for the SJV awards, because I was a finalist for Best Fan Writing. I didn't win, but I did collect the trophy for Best Short Story on behalf of Grant Stone. Which was fun.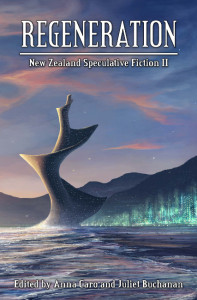 This year, once I knew I was on the final ballot for Best Short Story, I planned to go along on the Sunday evening again, but it didn't really work out that way. On Friday night, Random Static held a book launch for their new anthology, Regeneration, which includes a story by me, titled Mother's Milk. I was lucky enough to get up and read from my story, so right from the outset I was thrust front and centre into the eyes of everyone who was there. But I don't really mind that. I got everyone's attention with my reading, anyway. The room was so still you could hear the water dripping off the roof outside.
After the launch, at which I had the unexpected experience of having books thrust into my hand to sign, we retreated to the bar. Yes, it was a Con, and at the bar is right where the writers are supposed to be. What was really special about this was that a large proportion of the people I was, at that point, having a drink with, were people I had up until that night only known by their online personas. Over the course of the weekend, I met (among others) Grant Stone, Lee Murray, JC Hart, Piper Mejia, Darian Smith, Beaulah Pragg, Simon Petrie, Joffre Horlor, and AJ Fitzwater, all of whom are writers I've been somehow involved with in the digital world for months or years, but this was the first time I had actually been in the same place as any of them.
So my first night at a Con went off really well. I didn't go in on Saturday, but I made the hike on Sunday morning and sat on a panel about Trends in Short SFFH, where Marie Hodgkinson, AJ Fitzwater and I chatted about what's happening in the short fiction markets, what's changing, what's hot, what's not, and so on. I think it went pretty well; no-one threw chairs at us, at least.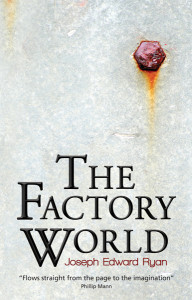 After that I went along to a writing workshop held by Phillip Mann, NZ SF author and a former university lecturer of mine, for which I'd written a short 200-word piece based on one of a choice of opening lines for the exercise. You can read that here, and please drop a comment if you like it. That was followed by lunch and laughs with great people, followed by another book launch, this time for Steam Press's new title The Factory World. There were muffins, and coffee, and lots more great converstations. Some official stuff followed, including the SpecFicNZ AGM, which I've been on the committee for over the past two years, and it was great to see a vibrant new group of people voted on. I've had a blast being on the SpecFicNZ team, but I'm glad that now I can relax and focus on writing again.
Last of all, the moment we had all been waiting for: the Sir Julius Vogel Awards. This was my third time on the final ballot, the second time for short fiction, but it was always going to be a tough competition. The quality of the fiction this year was quite excellent, and I was up against a swag of very good writers indeed: Grant Stone, Darian Smith, Lee Murray and Alicia Ponder. Unfortunately, the voting public didn't decide to honour Paint by Numbers with the win, but the award was taken away by Lee Murray instead, for her story Hope is the Thing with Feathers. Huge congratulations to Lee, who also happens to be co-editing the story collection I'm currently putting together, so I'm quite happy to be in the company of award-winning writers.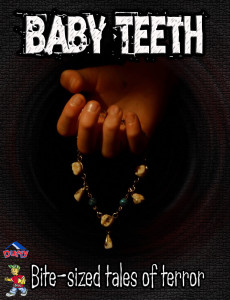 Speaking of which, I'm currently running a crowdfunding campaign to raise the money to do a print run of Baby Teeth – Bite-sized Tales of Terror. All proceeds from this collection, which features 36 stories from 26 different writers, including many award-winning authors (all of this year's finalists for short fiction mentioned above are in there, plus more than I can list here. Pop over here to have a look at the list of contributors), will be going to the Duffy Books in Homes charity, who work to get kids reading books, encouraging a fascination with books and reading from a young age. As a writer, I can't think of a better thing for a project like this to support.
For this anthology to get off the ground, we need your support. Please visit our PledgeMe campaign, pre-order a book, or an ebook, or an audiobook and show your support for local authors and a very worthy cause. There are heaps of great rewards you can pick up as well, including bonus ebooks and even story critiques.
Now all I have to decide is whether or not I'll actually go on a road trip to Auckland for the next convention, Conclave 2, which will be held on ANZAC weekend 2014. I guess it will depend on whether or not I'm in the running for an SJV again. And the only people who can decide that will be you, my dear people.
Here's to a strange new world.
(Hat Tip – Thanks to Matt Cowens for being there with a camera and sharing his snaps, which I have dutifully poached to use here. Go, buy his books)