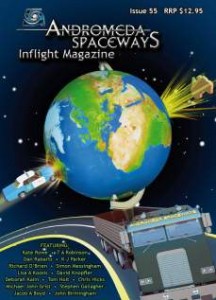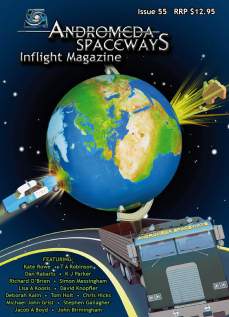 I got some very exciting news last week. My short story Paint by Numbers, which was my first story to be accepted for publication in a print magazine and which appeared in Andromeda Spaceways Inflight Magazine in December last
year, has
made it through some very tough competition indeed to gain a place on the final ballot for this year's Sir
Julius Vogel awards, in the short fiction category.
The other stories nominated for this category are Grant Stone's Better Phones, from ASIM #56, Darian Smith's Wearing
the Star Cloak, from
the Wily Writer's website, Alicia Ponder's Dying for the Record, and Lee Murray's Hope is the thing with feathers. I'm quite stoked to be in such good company on the ballot, which reflects the quality of New Zealand's speculative fiction writing talent, both established and emerging. It's my third time with a shot at an SJV, so here's hoping that this year, third time's the charm.
But why, I hear you asking, has it taken so long to blog about this? Well, the good folks over at ASIM have tossed the idea around, and agreed to release a free ebook bundle containing both Paint by Numbers and Better Phones, which were heretofore not available for free online consumption. For a limited time, you can head over to the ASIM site and grab your copy in epub, mobi or PDF. That way, if you're voting in the SJV awards, you can read all five stories and make a wholly informed choice.
The ASIM ebook story bundle can be found here, and the full list of SJV finalists, including links to the works where available, can be found here.