Hiss! Bang! And the second shot of Kiwi Steampunk is here!
Head over to the Ministry of Peculiar Occurrences podcast to listen to All That Glitters, another steampunk tale set is our very own Aotearoa, around the turn of the century. Agents Lachlan King and Barry Ferguson are called to an isolated mining town to investigate the strange appearance of a band of South Island miners who have walked out of a mine near the top of the North Island, dripping wet and mighty confused. They find the town all but abandoned, and as they descend into the realm of Ruaumoko, the Maori god of earthquakes, they find an explosive situation that will test both
agents and their equipment sorely.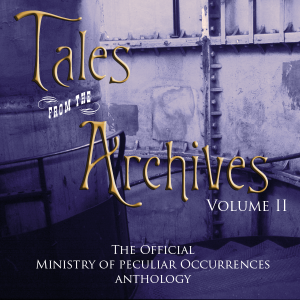 Narrated by yours truly, with Grant Stone as the voice of Lachlan King. Full credit going out to Grant, whose characters King and Ferguson first appeared in A Ruby in Rain, which was a finalist in the Parse Awards in 2012.
And many thanks to Pip Ballantine
and Tee Morris, for letting me step into their world to play.
Also, watch this space. There just might be a Third Shot on the way. Which is what I need to be doing RIGHT NOW…