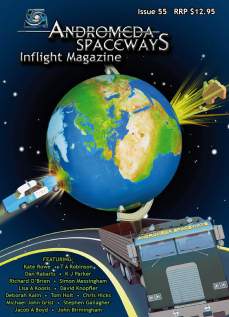 Well, it's finally here: Andromeda Spaceways Inflight Magazine, Issue #55, has hit the shelves. This magazine includes a piece of mine, my first story sale to a print magazine. (Yes, Bloodstones was released first, but Paint By Numbers was my first sale to a paper magazine, quite early this year. ASIM #55 just veered a little too close to a black hole at some point and has finally swung back into this arc of space, just in time for Christmas.) So I'm very excited about that, and am watching the mailbox in heady anticipation of laying my hands on a real hard copy of a magazine featuring actual words penned by me.
At the moment, it's a bit of race between ASIM & Bloodstones. I'll be stoked no matter who wins.
I've also got another narration up in the wild, this time over at the crime fiction podcast Crime City Central. The story is titled Something Pretty, Something Beautiful, and is written by Eric Barnes. I really enjoyed this story, and thoroughly enjoyed doing the narration. So head over and to CCC and download it for a listen. Excellent stuff.
I also have another story in the wings, which I can't announce just yet, but this is a story I both wrote and for which I've done the narration. Unfortunately, I think that I'll be out of internet range when the story goes live, so I may not get to shout about it until later. But if you hear it, and you're the first to leave a comment here with the URL back to the release, then there might be a prize in it.
Maybe a book. Maybe a chocolate fish.
I can't say for sure. I'm just making this up as I go along.
Also, there may be two correct answers. So keep your eyes and ears peeled.